Manfred Wolff-Plottegg "THE ROCKER"
schon 1967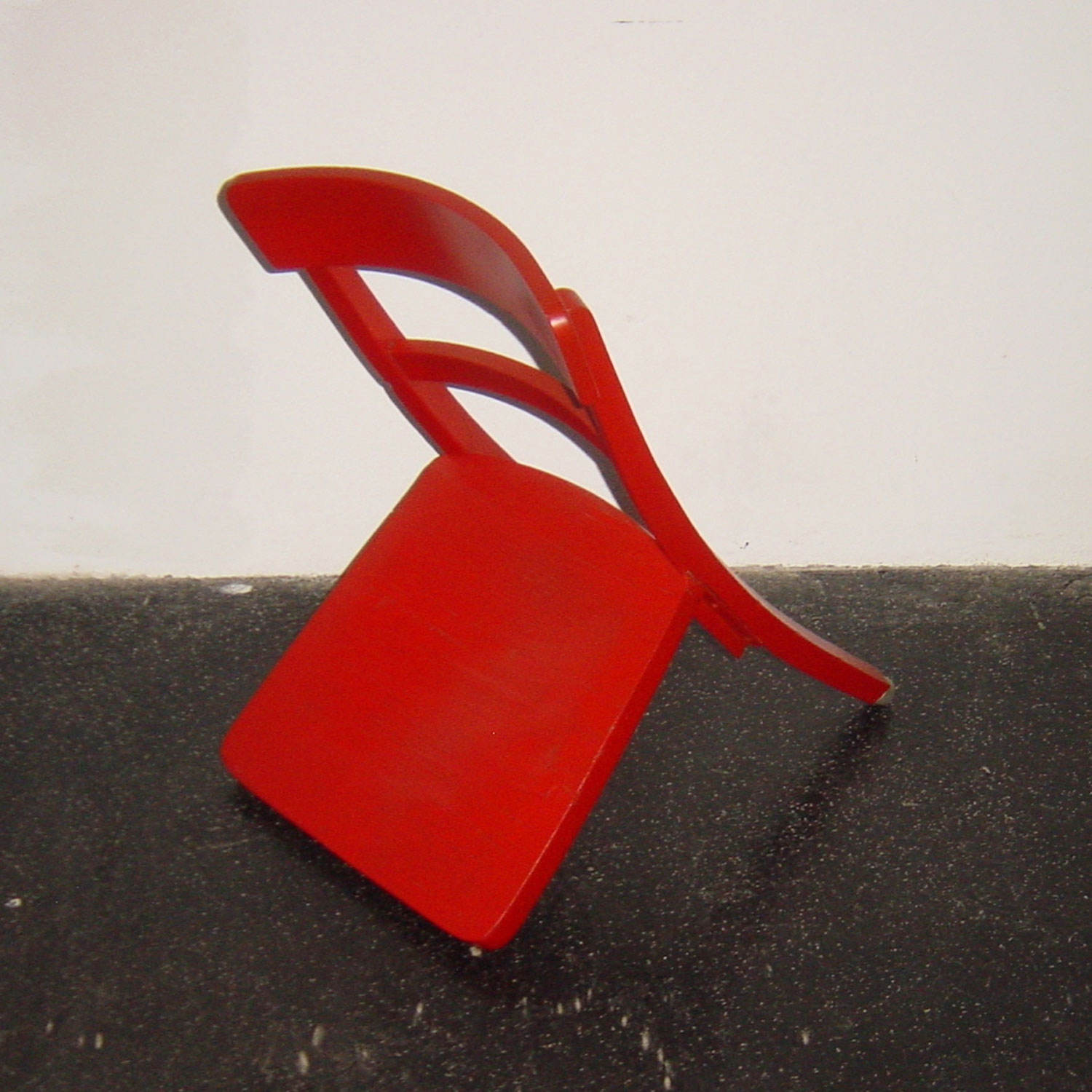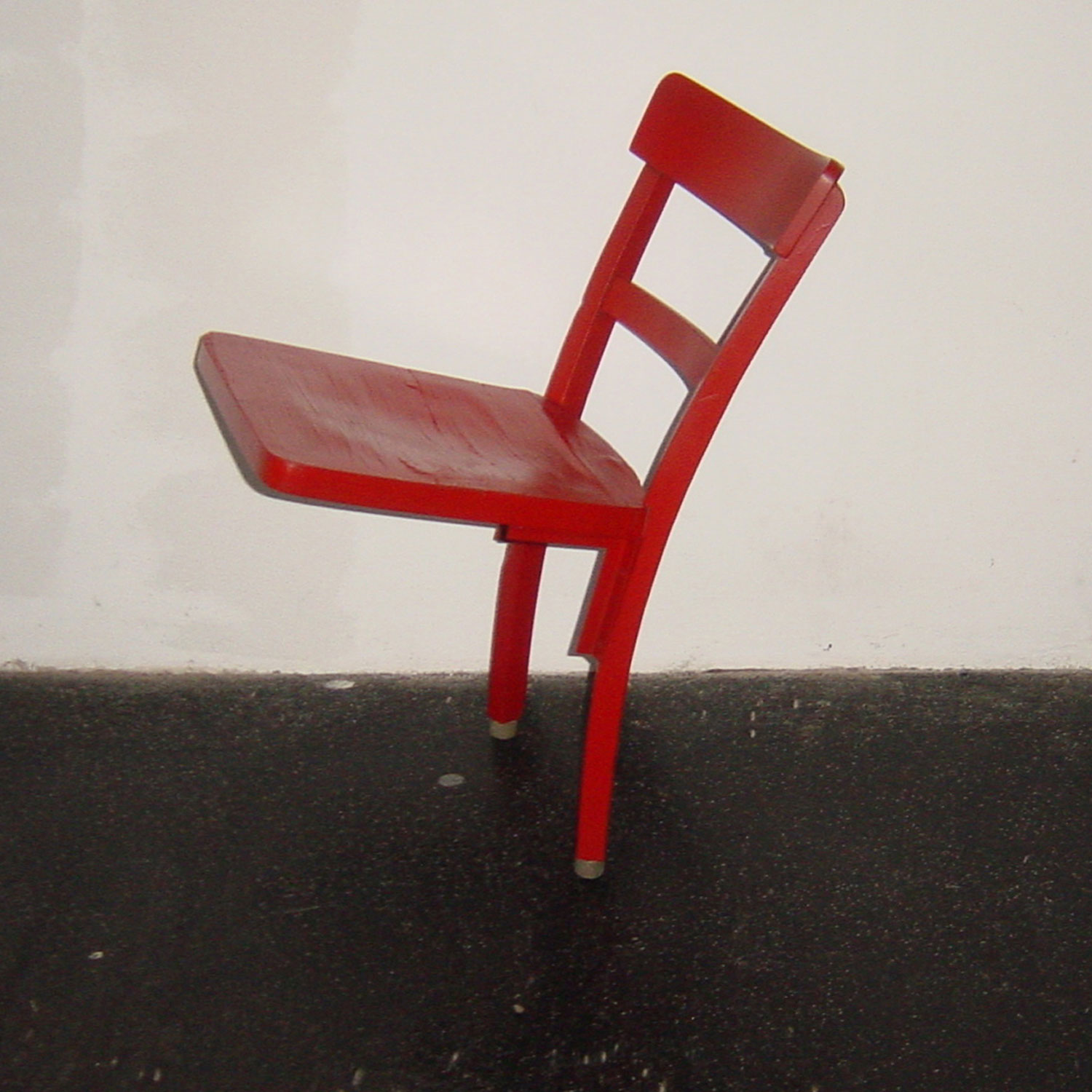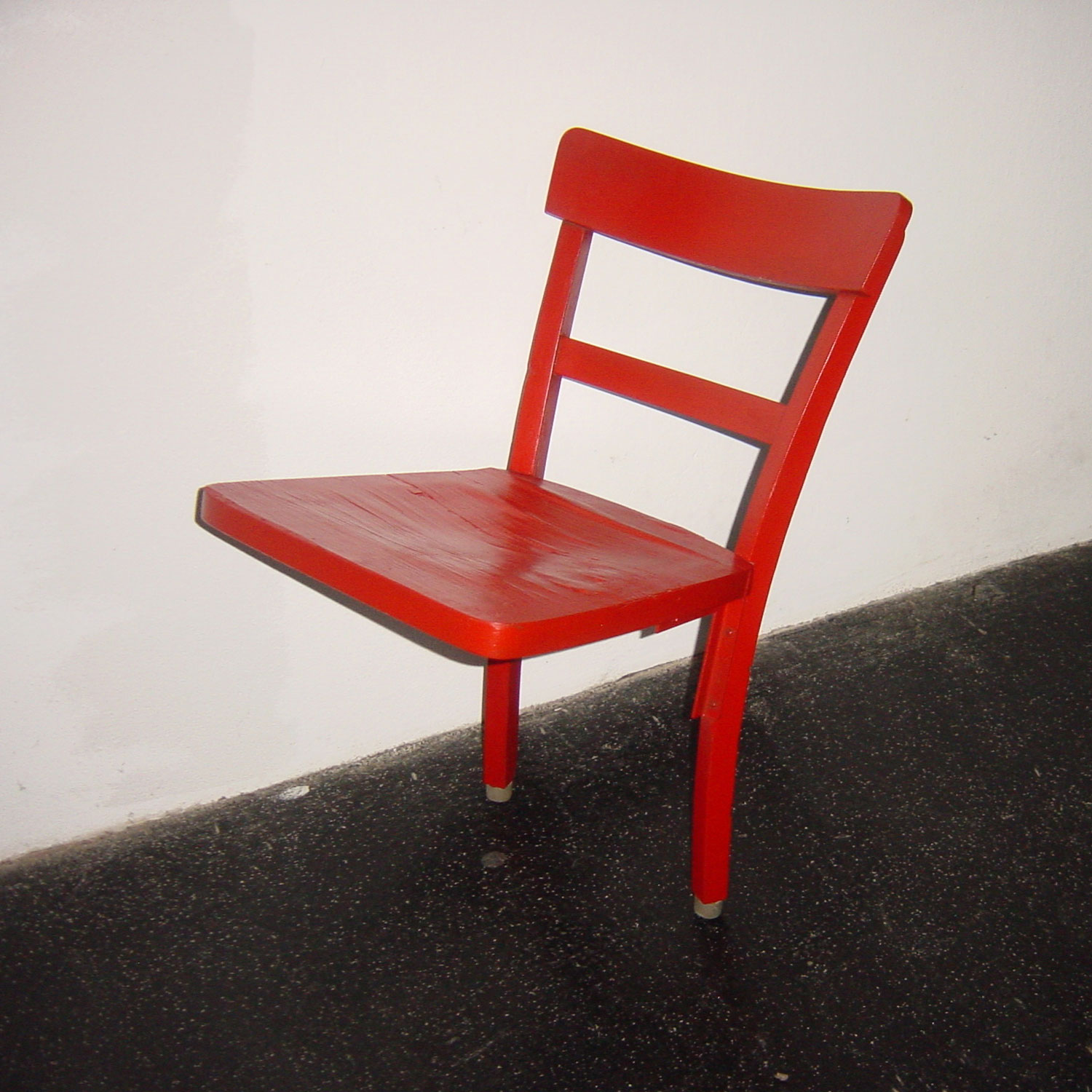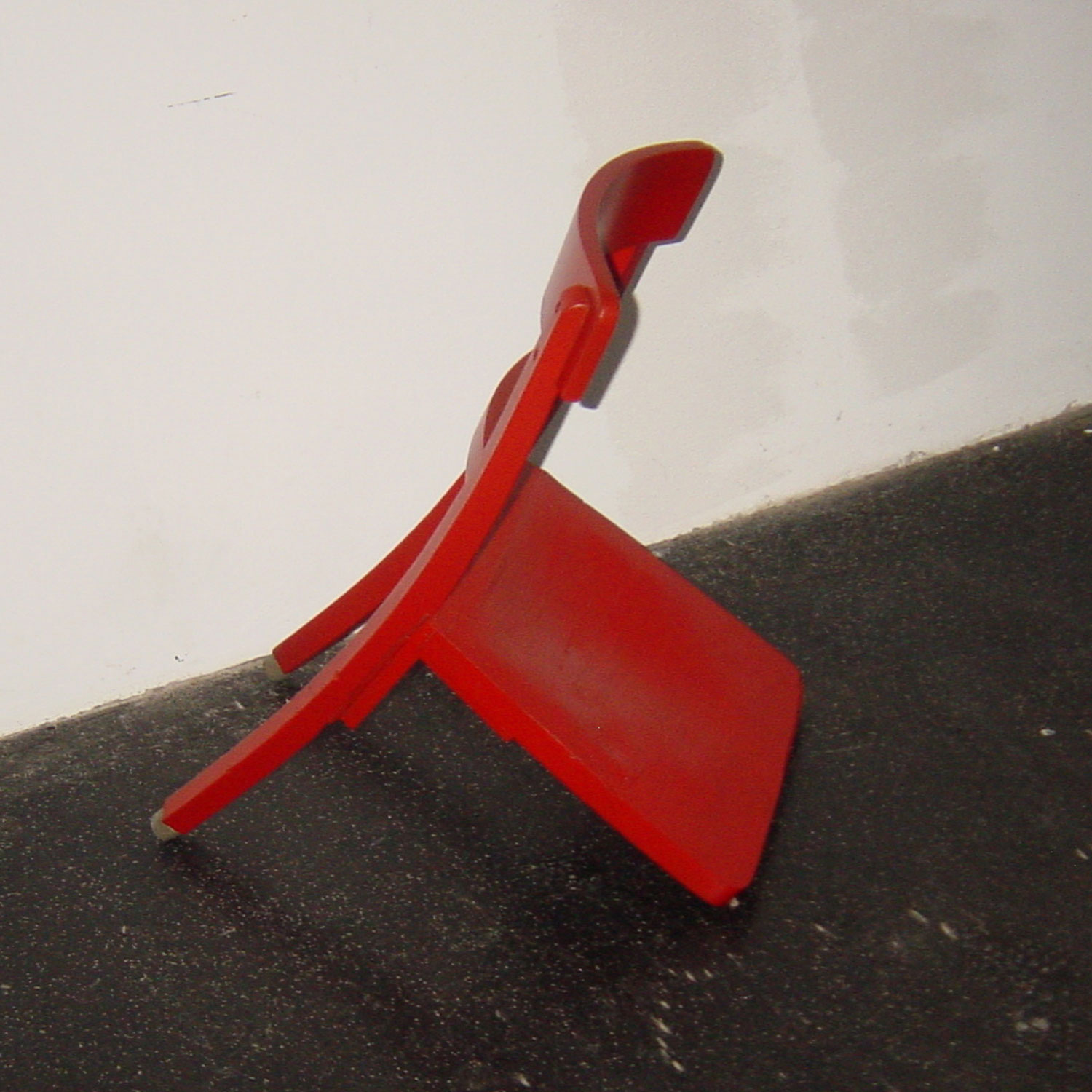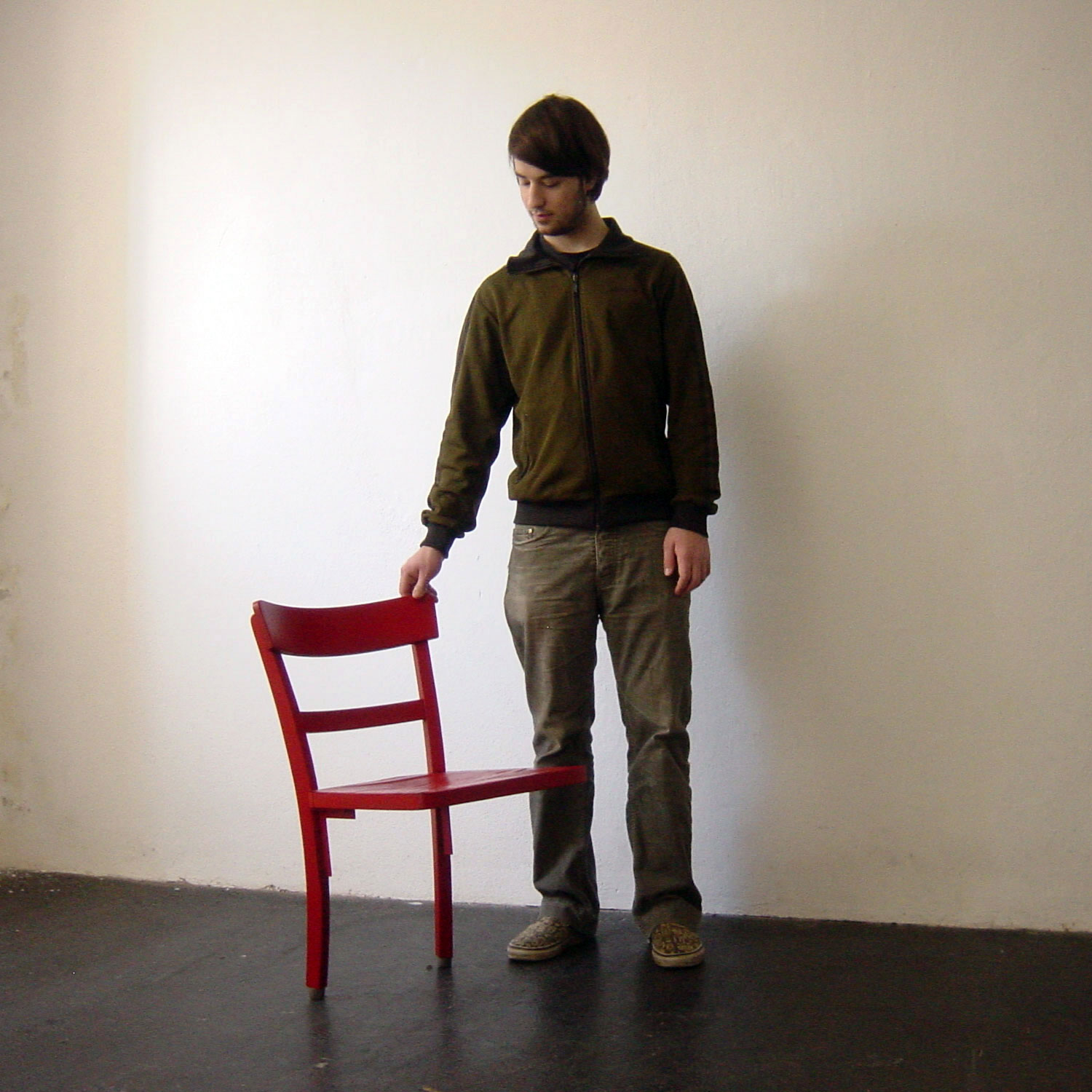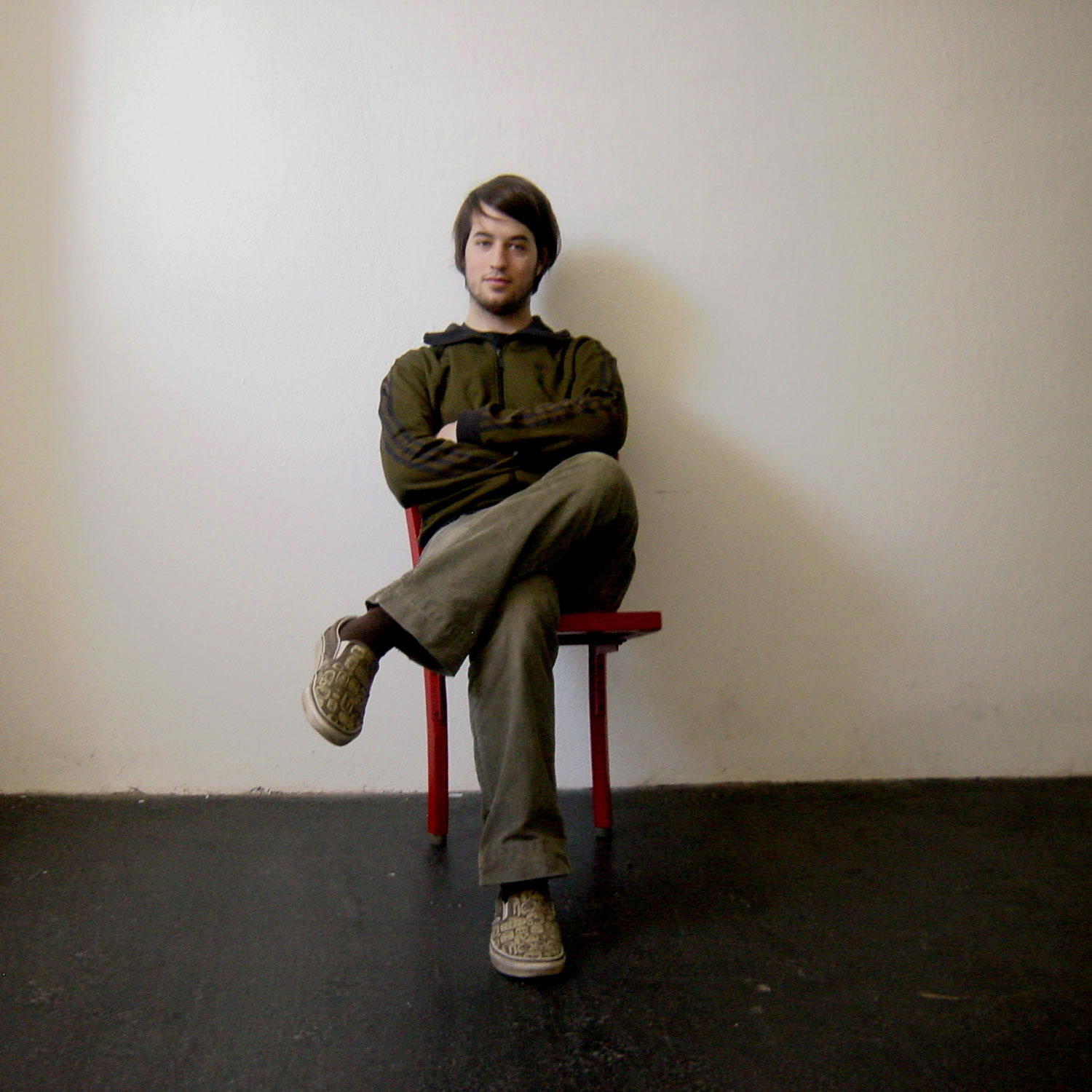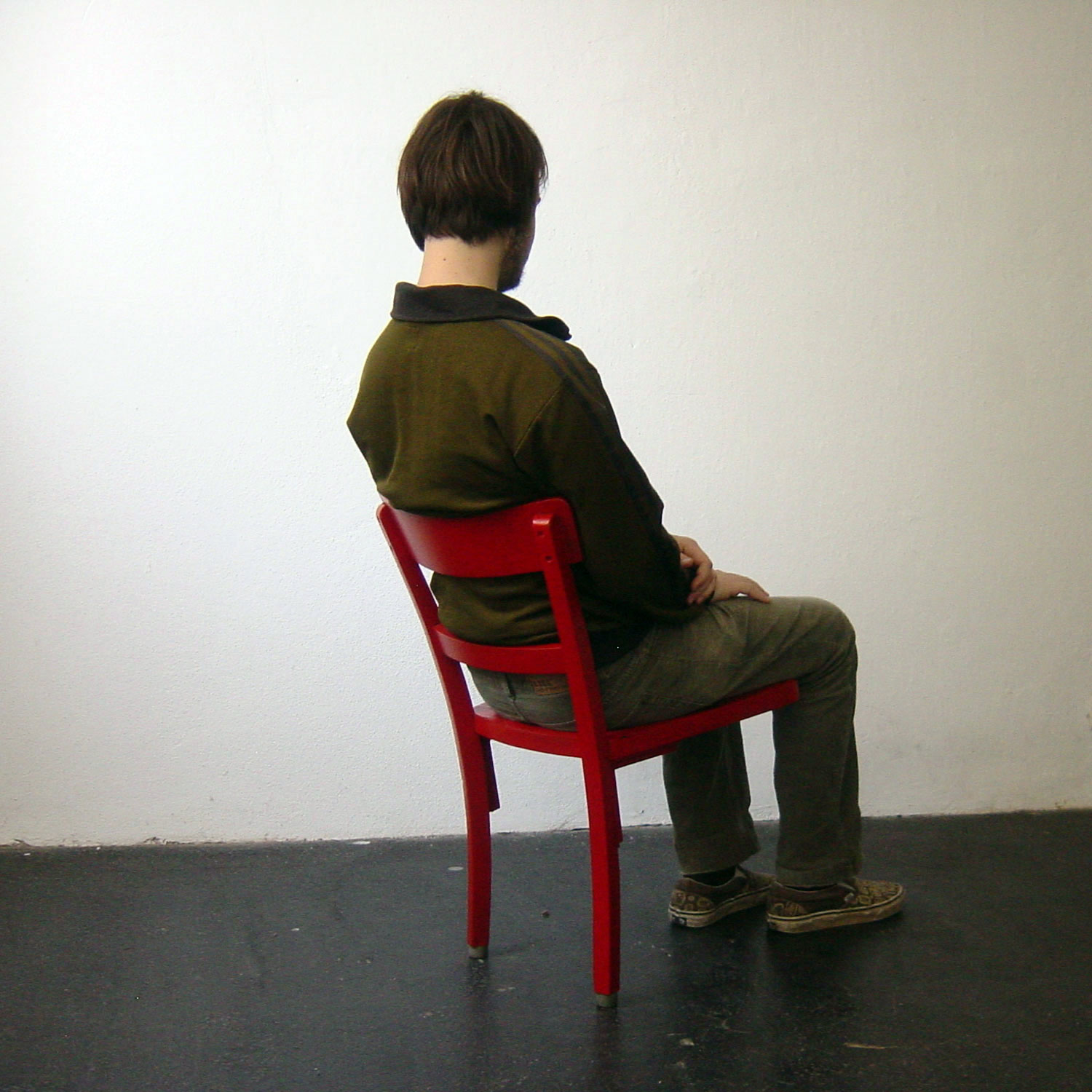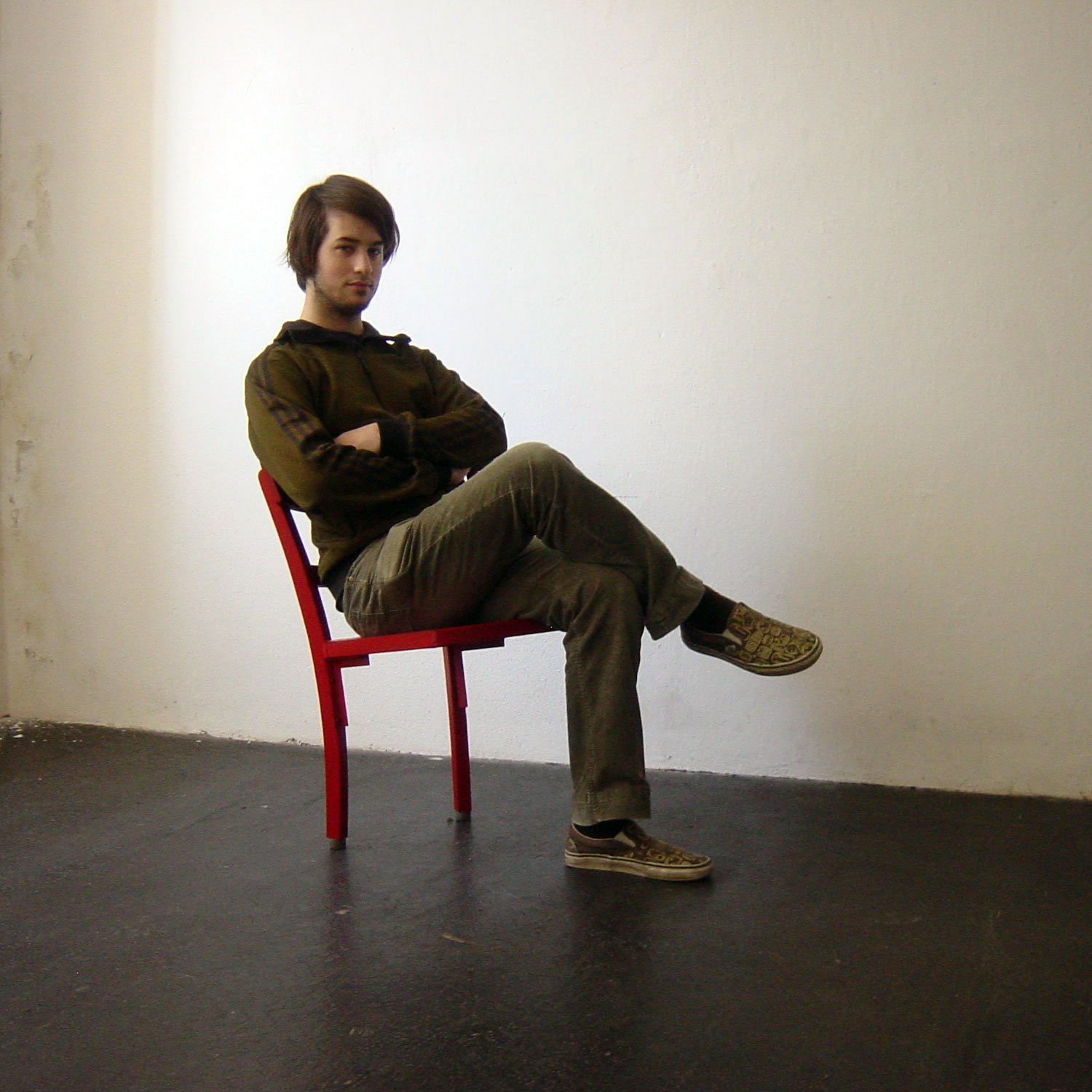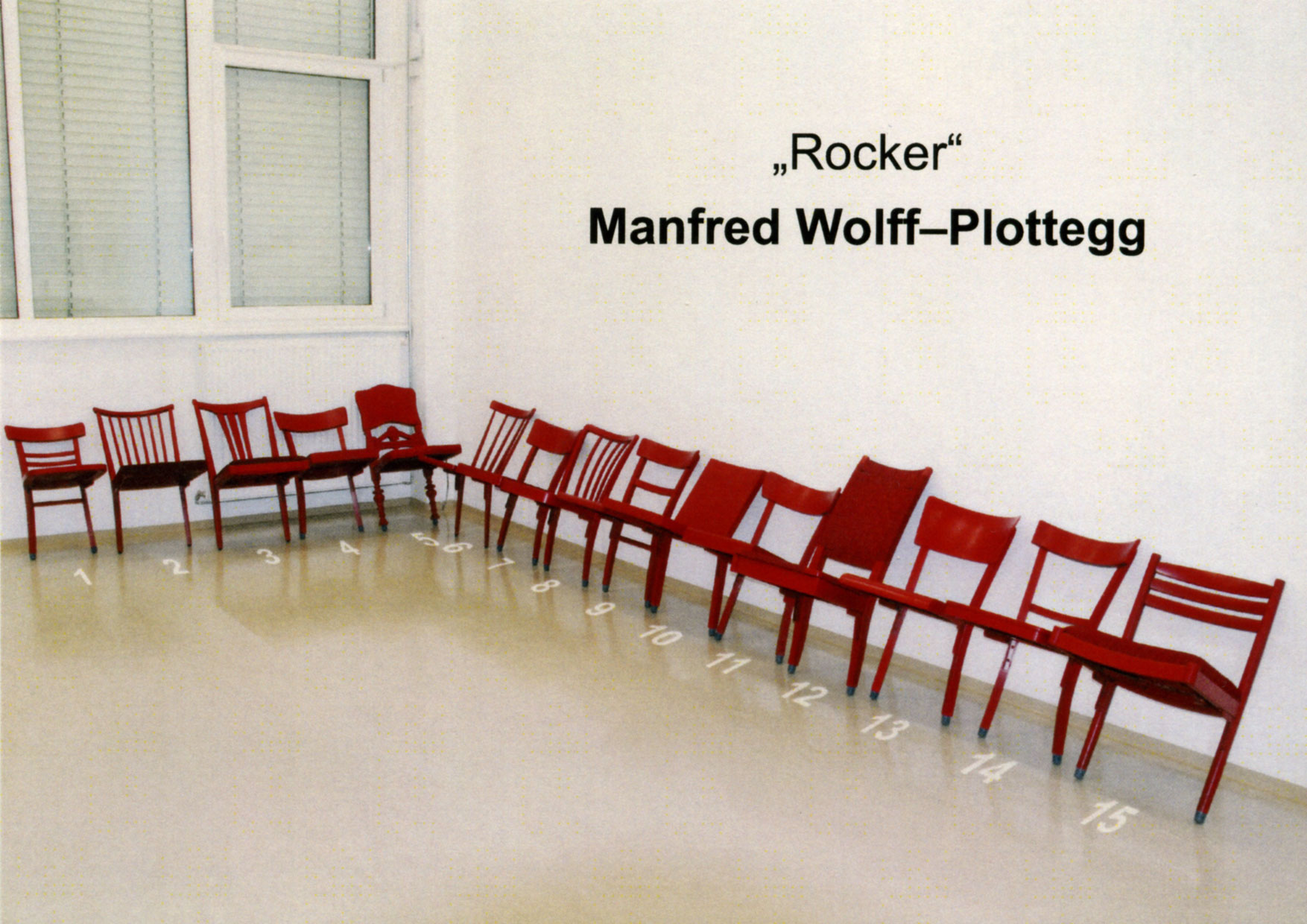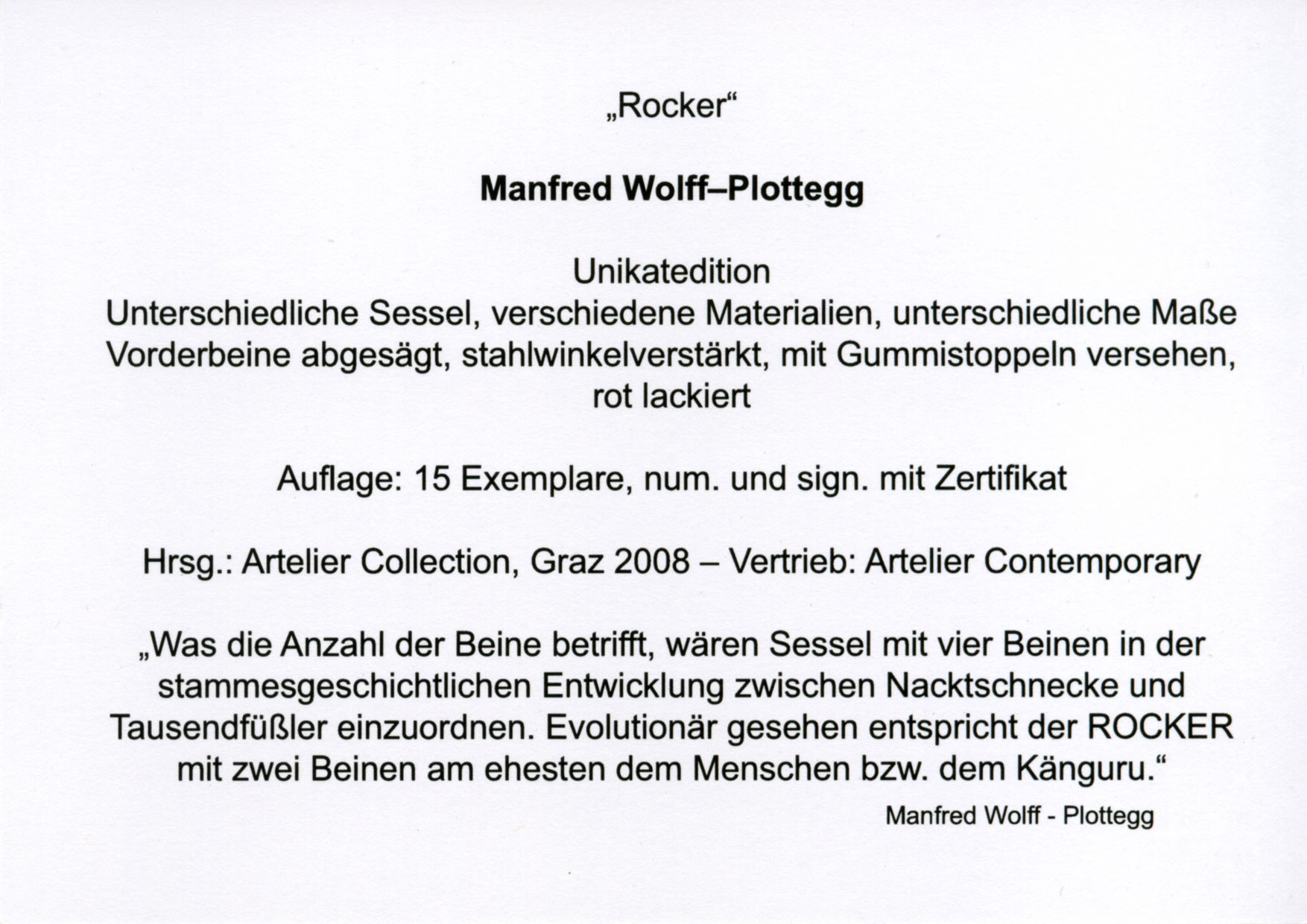 ...... und zudem ist der ROCKER ein zweifacher Beitrag zum Architekturdisput "Die stützenfreien Ecke" !
Die Welt des Sessels ist nicht die Welt des Sitzens .....
Manfred Wolff-Plottegg schon: Dienstag, 26. August 2008, 16:19:47
Einen Sessel erkennt man an den Beinen oder an der Sitzfläche, oft auch nur an der Lehne (wenn z.B. der Blick durch einen Tisch verstellt ist) ..... also auch pars pro toto und man verwechselt ihn doch nicht mit einem Stockerl oder einem Bett. Ein Sessel ist ein Sessel ..... weil er so aussieht wie ein Sessel.
..... und wenn man auf dem Erdboden sitzt, sagt man zur Welt nicht Sessel, weil sie (ohne Lehne und ohne Beine) eben kein Sessel ist, weil sie eher rund aussieht ..... also ist die Welt kein Sessel.
Andererseits: auch wenn niemand auf einem Sessel sitzt, ist er immer noch ein Sessel. Kommt man in einen Raum, erkennt man gleich was ein Sessel ist, man nimmt einen Sessel als Sitzgelegenheit wahr ..... benutzt ihn – auch unaufgefordert ..... unabhängig davon wie er aussieht (rund, gepolstert, Bugholz oder Formrohr). Sessel sind nicht Stühle, ein Sesselrücken ist keine Lehne und kein Stuhlgang (ein Klo ist kein Sessel – s.o.) ..... und beim Sesselreiten ist ein Sessel (rittlings bestiegen) kein Fahrrad .....
Es gibt meistens mehr Sessel als Sitzende (nur bei der Reise nach Jerusalem oder beim Sesseltanz in Österreich, ist das anders). Überall stehen leere Sessel weitgehend unnütz herum ..... ein Speiszimmersessel wird nur kurz besessen (nie wirklich ausgesessen).
Dafür liegen dann aber wieder Kleider auf Sesseln herum, obwohl ein Sessel nicht Bett, aber auch nicht Kasten oder Kleiderboy ist ..... aber wenn jemand auf den Sessel steigt, wird dieser (nur in Ottakring) zur Leiter..... und wenn sechs Sessel nebeneinander stehen, sind es meistens Wartezimmersessel (manchmal auch ein Sessellift).
Ein Sessel kann also verschiedenes, vor allem bewirkt ein Sessel, dass der Arsch nicht direkt am Boden ist ..... mit seinen Beinen kommt der Sessel dem Arsch entgegen ..... anders gesehen könnte man auch sagen, der Boden hat die Sesselbeine erfunden um sich die Arschlöcher vom Leib zu halten.
Deswegen haben Sessel viele Beine ..... zumeist vier ..... gemäß Rudofsky aber auch mehr, obwohl drei ..... oder auch zwei ..... bisweilen auch einer genügt. Ein Sacco (Zanotta 1968) hat überhaupt keine Sesselbeine ..... ist daher sicherlich kein Sessel ..... woran erkennbar ist: was immer (ob Farbe, Material, Form, Bequemlichkeit .....) Designer oder Künstler oder Architekten für den Sessel beitragen wollen ..... ein Sessel ist ein Sessel ist ein Sessel ….. das sitzt.
THE WORLD OF THE ARMCHAIR IS NOT THE WORLD OF SITTING .....
One recognises an armchair by its legs or its surface, or often just from its backrest (when e.g. one's view is blocked by a table) ….. hence pars pro toto, too, and one would never confuse it with a stool or a bed. An armchair is an armchair….. because it looks like an armchair.
….and when one is sitting on the ground, one would not call the world an armchair, because (not having any back rest or legs) it simply is not an armchair, because it looks round instead…. so the world is not an armchair.
On the other hand: even when no one is sitting on an armchair, it is still an armchair. When one enters a room, one immediately recognises what an armchair is, one perceives an armchair as a seat …. one makes use of it – even without being asked….. regardless of how it looks (round, upholstered, bentwood or form pipe). armchairs are not upright chairs, the back of an armchair is not a back rest and not a bodily stool (a loo is not an armchair – see above)…. and when riding around on an armchair (mounted astride) the armchair is not a bicycle…
There are usually more armchairs than people sitting (only in the game of musical chairs is this not the case). Empty armchairs are to be found all over the place, largely of no use…. a larder-chair is only ever briefly occupied (and not really worn out).
This is why however there is always clothing lying around on armchairs, and although an armchair may not be a bed, it is also not a wardrobe or a clothes hook…. but when someone climbs up on an armchair it becomes (only in Ottakring) a ladder…. and when six armchairs are stood next to each other they are usually waiting-room armchairs (or sometimes a ski lift).
An armchair can therefore do various things, but above all its function is to ensure that one's bottom is not directly on the ground…. the legs of the armchair accommodate the bum…. or to put it another way one could also say that the ground had invented the armchair to keep our arses away from it.
That is why armchairs have many legs …. mostly four ….. according to Rudofsky more even, although three, or even two…. occasionally just one is enough. A 'Sacco' (Zanotta 1968) has no legs at all….and is therefore definitely not an armchair….. whereby it is evident: whatever (whether it is colour, material, shape, comfort….) designers or artists or architects wish to add to an armchair…. an armchair is an armchair is an armchair….and that's the way it sits.